Konevets Quartet, a male vocal ensemble from St. Petersburg (Russia) presents
Music without borders
Church music and folk songs of different countries
Friday, February 15 at 7:30pm
New Martyrs and Confessors of Russia Orthodox Church
13820 S Union Hall Rd, Mulino, OR 97042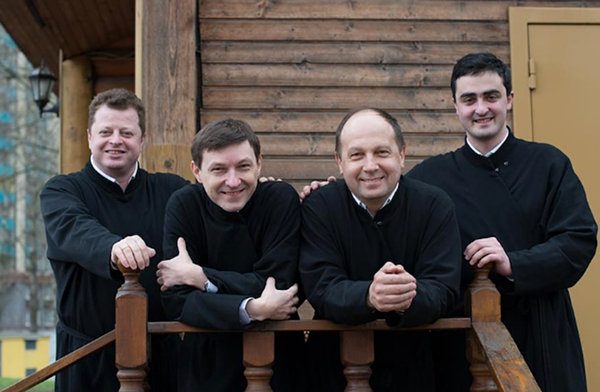 A concert by the Konevets Quartet offers a fascinating program of harmonic brilliance in the rich tradition of Russian choral music and the male chamber choir.
The KONEVETS QUARTET was founded in 1992 by graduates of the St. Petersburg Music Conservatoire-Glinka Choral Academy; who sang in the Konevets Holy Nativity of Mother of God Monastery choir. Their goal was to share the rich Russian vocal traditions with audiences the world over. With their dedication to creating a perfect harmonious sound, their repertoire was created especially for this purpose, and remains such to this day.
The heart of their repertoire is Orthodox sacred music, ranging from chants and hymns by twentieth century composers, such as Chesnokov, Grechaninov and Stravinsky, to ancient chants and hymns sung in unison or in two or three- part arrangements and in contemporary four-part arrangements, sometimes re-harmonized by the Quartet.
The quartet's secular repertoire features Russian and Ukrainian folk songs, classical selections and Imperial regimental songs and marches which were forbidden during Communism. The third portion of the repertoire features lyrics by Russian poets set to music by Tchaikovsky, Borodin and other famous composers.