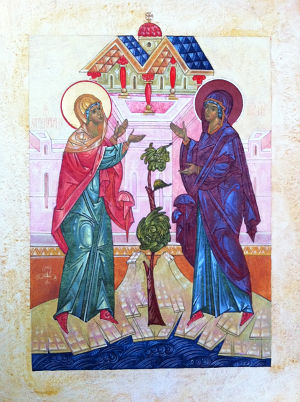 This year we are pleased to announce two workshop opportunities. The first workshop is a two-day course focusing on drawing and sketch preparation. The second workshop is a six-day iconography course. Prosopon School of Iconology teacher, Dmitri Andreyev, will teach both workshops.
Both workshops will be held at the Church of the Annunciation. Food and lodging are not provided, but, as always, we are willing to help you find suitable accommodations. For information please contact Rosalie Broding by email at broding.oregon@comcast.net
Course Descriptions
Two-Day Drawing/Sketching Course
This course will be limited to 10 students and will be offered Friday, July 27 and Saturday, July 28, 2012.
Dmitri will provide a supplies list to enrolled students. The cost of this workshop is $125 (plus supplies cost). Pay in full before June 1 and receive a $25 discount. If the class is cancelled, all money will be refunded.
Day 1 (9Am to 4PM)
Introduction: Prosopon style
Sources and History
Basics of drawing a face and figure
Drawing of half figure saint from a historical sample (provided by Dmitri)
Day 2 (9AM to 4PM)
Basics of proportions, perspective, composition
Drawing of a simple compositional icon
Six-Day Iconography Workshop
The six-day workshop will be held Monday, July 31 through Saturday, August 4, 2012. This course is open to 18 students of all levels.
Beginning students will work on an icon of Saint John the Baptist. More experienced, students will work on an icon of The Visitation. Experienced students will receive a sketch of The Visitation prior to the workshop. Dmitri will provide instructions for roskrych.
Workshop Costs
The cost of the workshop is $650.
If you pay a $100 non-refundable registration fee by April 1, 2012, you will receive a $50 discount on the cost of the workshop
If full payment is received before June 1, 2012, you will receive an additional $50 discount
If you need to cancel after you have enrolled, only your $100 non-refundable registration fee will be retained.
Supplies Costs
Beginning students: Please plan to use the instructor's supplies. The fee for using the instructor's supplies is $80 and should be paid directly to Dmitri. You will need to order 10×13 inch gesso student boards with a kovcheg. The cost of the icon board is about $85 (excluding shipping). Prepared boards are available through the Prosopon School at www.prosoponschool.org and through Pandora Iconographer's Supplies athttp://www.iconboards.com.
Experienced students: Please bring your own supplies and a 13×17 inch board.
How To Register
For questions please contact Linda Weick by email at iconportland@gmail.com.
Deposit checks should be made out to "Linda Weick".
Please write "2012 Iconography Workshop" in the memo line.
Send your deposit check to:
Portland Iconography Workshop
C/O Linda Weick
7515 SE 36th Ave.
Portland, Oregon 97202