Many of you have been waiting to hear about St. John's Family Camp and we are pleased, with God's grace, to announce that registration is now open for this year's Family Camp! The dates are Sunday August 9th through Friday August 14th at Sky Camp, near Eugene Oregon, which is our previous location. The theme this year is "The Church, A Family; The Family, A Church". Come share with us this year!
This is a spiritual retreat for the whole family, where you can come and refresh your soul and get the best of both a retreat and a vacation!
Attached are the registration form, the parental release form allowing your children to participate in the activities, an information flyer about the camp, and other information about the facility. If you have questions you are always welcome to contact us at the NEW EMAIL address: sjwfamilycamp@gmail.com.
Last year we reached the maximum capacity of the camp facility and we expect to do so again this year! Please send your registration and deposit in as soon as possible to reserve your space! And please invite any Orthodox families or individuals who would be interested in joining our camp this year.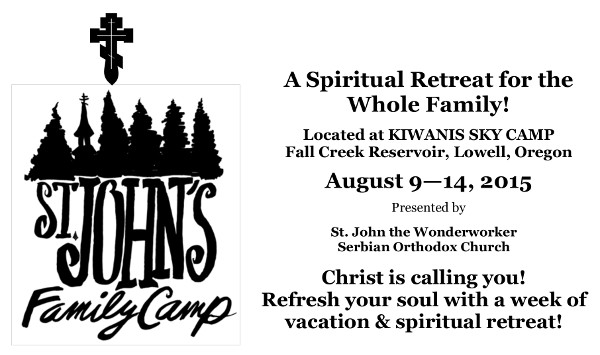 See the last year camp pictures!