Looking for a great school for your little one? Come & See what ASA can do!
Stop by anytime between 5-7pm on Thursday, January 25th, 2018 for a student-led tour of our school, while you meet our wonderful teachers, and learn more about our terrific programs.
Whether you're looking for an immediate start or planning head for the Fall, come & see our Montessori Primary Classroom for Preschoolers & Kindergarteners (ages 3-6), or our Multi-Age Elementary program utilizing a research-proven blended classrooms (Lower Elementary: K-2 & Upper Elementary: 3rd-5th) approach. Our core subjects include Language Arts, Mathematics, Science, History & Geography, Art, Music, and Physical Education, as well as Greek & Latin instruction. Our low student to teacher ratio (12:1) allows for hands-on learning and academic excellence. Plus starting January 2018, we are now offering on-site after-school care til 6pm!
Come & See Agia Sophia Academy! We are located at 14485 SW Walker Road, between 158th Avenue & Murray Blvd. We are across the street from the Nike Campus and nestled between apartments & condos in the St John the Baptist Greek Orthodox Church building. Our School looks more like office space from the outside: gray building, green roof/trim, lots of windows.
Agia Sophia Academy
14485 SW Walker Road
Beaverton, OR 97006
503-641-4600 | www.asapdx.org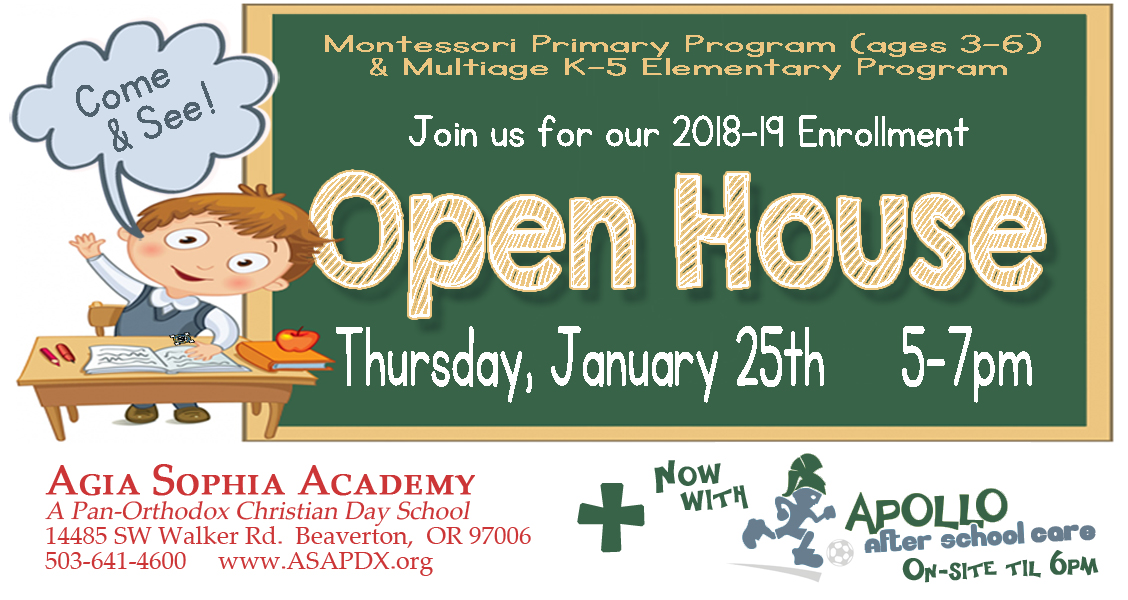 *Agia Sophia Academy is a 501(c)(3) nonprofit Private School and a member of AdvancED | Northwest Accreditation Commission. Find us on Facebook at www.facebook.com/ASAPDX